Aiming Incorporated officially announces the Japan commercial release of its action RPG, 『Valiant Legion』, for the smartphone which begins this December 10th (Tuesday).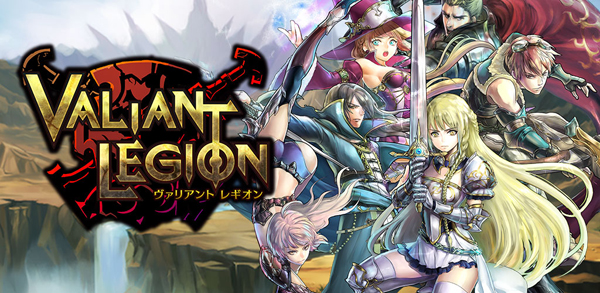 ■The Long-awaited 『Valiant Legion』 Begins its Commercial Service in Japan!
A week after the start of its Android-only open beta release, action RPG 『Valiant Legion』 garnered a 4.5 star rating on Google Play Japan. Now answering the call of iOS users for an iOS version release, the iOS version will also be released together with the Android commercial version on the same day, December 10th (Tuesday). Players can now enjoy Valiant Legion in its commercial version all the more!   In this commercial release version, "Valiant Crystals (VC)", the game's virtual currency, can now be purchased. Aside from obtaining rare in-game equipment from the "Beginners Gacha" and the "Special Gacha", VCs can also be used in the game to revive your character and continue your game.
What makes all this even better is that player data from the Japan open beta will be carried over to the commercial release.

■『Valiant Legion』 Also on Facebook Japan!
Get the latest information on Valiant Legion via the official Facebook page. Loaded with other contents such as game tips and future game contents from the developers themselves, make it a habit to visit this page.   Official Facebook Page (Japanese):
https://www.facebook.com/ValiantLegion.jp
■『Valiant Legion』 Gameplay Video
The official gameplay video for 『Valiant Legion』 can also be seen on Youtube. Official Youtube Video (Japanese):
http://www.youtube.com/watch?v=QWVdUB_bXmE
<Application Overview>
Game Title: Valiant Legion Genre:Action RPG OS:Android 2.3.1 or later/iOS 4.3 or later Smartphone Platforms:Android/iOS Available On:GooglePlay, AppStore Pricing:Free Download (with options for in-app purchases)  
Official Webpage (Japanese)
http://valiant-legion.jp/
Official Facebook Page (Japanese)
https://www.facebook.com/ValiantLegion.jp
Official Twitter (Japanese)
https://twitter.com/ValiantLegion
(Hashtag)#vlegion    
Google Play
https://play.google.com/store/apps/details?id=com.aiming.valiantlegion
App Store
https://itunes.apple.com/jp/app/valiant-legion/id684669201