About Aiming
Our Mission

Aiming Inc. have established in May 2011. Many of our staff have plentiful experience in developing and operating both consumer games and online-games over 15 years. As for the Free-to-Play model, the mainstream business model of current smartphone games, we have long careers from the early years of the Japanese PC online-game to the very moment.
In the past, we had developed PC online-game "RED STONE (GameOn Co., Ltd.), Web browser game "Three Kingdoms" (published by AQ interactive), "Sengoku IXA" (SQUARE ENIX CO., LTD.) and started the operation of "Logres of Swords and Sorcery: Goddess of Ancient" in Dec. 2013.
Aiming's goal is, making best use of these rich experience and achievements, to develop online-games of top-level quality in Japan and finally to achieve globally, for not only smartphones but also any possible devices incoming in the future.
Message from the CEO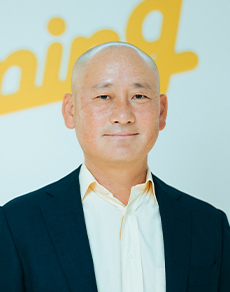 According to a report, the amount of smartphones shipped during the year of 2016 is around 1.36 billion. If we compare the number to that of the best-sold consumer gaming devices in the world, which is 0.15 billion, we would realize how big this number is. People all over the world now always carry devices on which they can play games at anytime, anywhere. Such a new era has come.
It also means that in this era, we have chances everywhere in the world. From the game developer's point of view, it is such a lucky timing for us. I appreciate that I am able to challenge to a big chance with talented staff at this timing.
Leading by China, the global game market has been expanding year by year, and at the same time, the competition has become even fiercer than ever. We are not only facing the challenges from domestic competitors but also worldwide game companies. And, we have to survive through the competition. As long as we are a game developer, the only mission for us is to keep on improving the "Ability to develop high-quality games; that is, Game develop power".
Aiming pledges to challenge ourselves to see how far we can go and what we can achieve. Our dream – a phrase I would prefer not to use but does seem fitting – is to strive for goals that one would have believed were unattainable. Succeeding against tough competitors in the global market will not be easy. It is not a task everyone is capable of achieving. For that very reason, however, our dream is meaningful.