About Aiming
Our Mission

In the short few months since the inception of Aiming Inc. in May 2011, our team has expanded to more than 200 members dedicated to developing browser-based and social games for smartphones and PCs.
With careers spanning more than ten years in the online game industry and seven years with the Free-to-Play model, our core members lead a team that offers an unparalleled amount of experience and credentials in terms of technology and game design. Our library of games includes online titles Browser Three Kingdoms (published by AQ Interactive), Sengoku IXA (Square Enix) and Hero Quest (DeNA). Aiming also stands out as one of the few Japanese studios to release a 3D-MMORPG with Blade Chronicle.
The emergence of smartphones and other mobile devices has ushered in a generation of technology in which consumers have instant access to the Internet even away from their computers. Aiming strives to build on our accumulated experience and past achievements to succeed on a global level in this ever-increasing interconnected environment.
Message from the CEO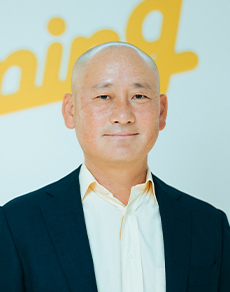 Several years ago people could only imagine a time in the future in which the Internet can be accessed on every mobile device. That time has finally come.
From our perspective, the new era should be celebrated as one in which online games can be played on every mobile device.
However, the advances in technology have come about in a period defined by a high level of global competition. Anyone can develop a browser-based or smartphone game and release it to the market. The competition is fierce even on shared devices and platforms.
In the past, gaming in the household was a luxury enjoyed only by advanced nations. The advent of online games has created a boom for the industry in countries such as Turkey, Brazil, Vietnam and Indonesia. As the usage of smartphones spreads and wealth increases in developing countries, the market for games is certain to grow two to three times its current size.
Although some people may feel that the games industry has already reached the status of a major market due to the extensive growth of social apps, we feel that the progress has only just begun. Social apps, in our opinion, are merely one genre under the online game order.
Has there ever been another period in time that offered so many possibilities? We are thankful that we have been able to assemble a team of talented individuals to stake our claim of opportunities.
Aiming pledges to challenge ourselves to see how far we can go and what we can achieve. Our dream – a phrase I would prefer not to use but does seem fitting – is to strive for goals that one would have believed were unattainable. Succeeding against tough competitors in the global market will not be easy. It is not a task everyone is capable of achieving. For that very reason, however, our dream is a meaningful one.