Aiming Developer Credo
Web + Game + Real Time Communication Technology: Organized with the tools to succeed in the future
Over-optimized: The Japanese Game Industry
Companies within the Japanese game industry can largely be divided into two groups. The major game companies that were successful with titles on consumer consoles represent one faction. The second encompasses companies whose roots lie in web design, later making the transition to producing social games. The differences between these two types of game companies are transparent and numerous.
In terms of planning and investment cycles, companies with a background in the console game market are typically superior in creating games that have a strong presence in its direction. Project planning is often oriented to maximizing game playability. Consequently, the scope and volume of the game contents increases, and its elements become more and more complex. This style of production is seemingly ill fit with the shorter, more detailed PDCA cycles that are a necessity in the investment cycle of social game development.
In comparison, web design companies that move into the social game market for mobile phones usually possess an advantage in being able to maximize the performance of their product when released for commercial service. They do so by closely analyzing key performance indicators (KPI). However, smartphones have revolutionized the mobile phone market as the latest models feature high specs and offer a variety of functions. As competition is no longer limited to domestic rivals, these companies find that the know-how they have accumulated may not be enough to succeed in this new environment.
The same sort of differences between the two groups can be seen from a technological perspective as well. The former is disproportionately staffed with C++ and 3D technology specialists, while the later primarily recruits professionals experienced with server side-oriented technology and languages such as PHP and Perl. Though it is clear that game development in the future will require both types of personnel, the process of combining strengths has been a slow one.
The situation is one in which companies have optimized their work force and internal processes to such a degree that they are unable to adjust to the ever-changing environment.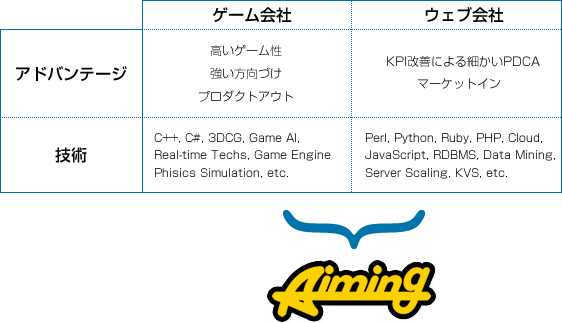 Aiming Inc – Game Company Evolved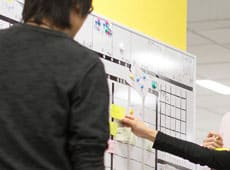 With years of experience operating and designing online and freemium games, Aiming's game planners are masters of their craft. One of the premier planning teams in the industry, their work focuses on browser-based games and has accounted for several hundred million dollars in sales.
On the development side, our engineers and programmers have an equally successful track record with a variety of online game genres, from 3D MMORPGs to 2D quest-based games. The development team is top-notch and grounded with experience on multiple platforms including browsers, home consoles, PCs and smartphones.

The future of game development will require a level of sophistication and diversity that exceeds what has been offered as social games for mobile phones in recent years. At the same time, development will have to be executed in cycles much shorter and refined than had been customary for consumer console titles. To be successful in this new environment, game companies must be able to address both requisites.
Built with this in mind, Aiming is a shining example of a game company evolved.
Emphasizing Source Code, Focusing on Output