SEGA Networks and Aiming Incorporated announces the official commercial launch of their smartphone game, "Gendou Senki: Griffon" in Japan today, June 27
th
, 2013 (Thursday).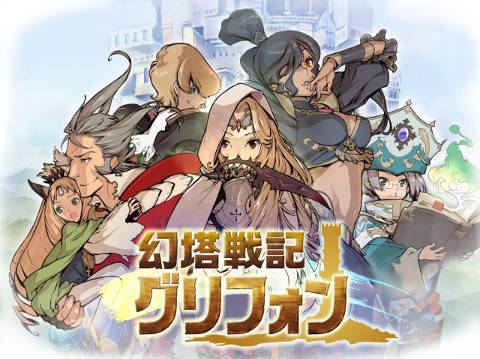 Out on an adventure to unravel the secrets of the mysterious tower "Metoxera", "Gendou Senki: Griffon" is a full-fledged, side-scrolling action RPG. See the world through the eyes of "Tower Thieves" together with allies and take down enemies at hand. With mere simple controls, experience overwhelming feeling of fun and action, playable with up to 4 friends in co-op mode. Various job classes and skill trees await! On top of other numerous avatar items, customize the playstyle to suit one's taste.
■A Refreshing Take on Action RPGs
Watch out for an exciting in-game event currently underway for all Tower Thieves! Experience the ease and feel the tension rise using but mere simple and intuitive gameplay controls. Immerse yourself in this side-scrolling world, made up of consistent vivid graphics for each stage.

Wasteland Quest
Mountain Quest
Forrest Quest
■Various Job Classes, Numerous Avatar Playstyles To Suit One's Taste
Combine numerous avatar items with various job classes and create your own original playable character!

Character Creation
Job Class Selection
In-game Characters
■Cooperative Gameplay With Up to 4 Players!
Enjoy party-play through the auto-matching system, complete with a real-time chat function! Build up teamwork tactics and combos on a 4vs4 battle against other guilds alongside guildmates in the Guild Battle System!

Co-op Play of up to 4 Players
Real-time communiation while playing
【On Data Migration from "Gendou Senki: Griffon Openβ Test" to the Commercial Version】
Scope: Those who have played on the "Gendou Senki: Griffon Openβ Test" on Android Migration Period: ~July 8th, 2013 (Monday) Until 23:59 Migration Details:
http://griffon.sega-aiming.com/news/p1668/
Upon the start of commercial release, a guide for data migration will be available. To players who wish to migrate their data from the openβ test, please refer to the link above for the necessary procedures and we apologize for the inconvenience this may cause.
<Application Overview>
Name: Gendou Senki: Griffon Genre: Action RPG Smartphone OS: Android, iOS Start of Japan Service: June 27, 2013 (Thursday) Google Play Japan:
https://play.google.com/store/apps/details?id=com.sgn.aiming.griffon/
AppStore Japan:
https://itunes.apple.com/jp/app/id647140993/
Price: Free-to-Play (with options for in-app purchases) Copyright: ©SEGA Networks/©Aiming All Rights Reserved Official Website (Japanese Only):
http://griffon.sega-aiming.com/
Official Twitter URL (Japanese Only):
https://twitter.com/griffon_sp/
 (Hashtag)#ぐりぽん Official Facebook URL (Japanese Only):
http://www.facebook.com/GRIFFON.sp/
"Gendou Senki:Griffon" Promotion Movie Version 1 (Available) Link:
https://www.youtube.com/watch?v=igVmw_q4Ps4/
"Gendou Senki:Griffon" Promotion Movie Version 2 (Available) Link:
http://www.youtube.com/watch?v=tUV4OQRVKLk/